About Us

Out of the famous 5 sensations which we all are aware off; the two most important considered ones are 'Smell' & 'Taste'. These two are essential as a good smell and taste carry the potential of taking a person into a different world, a pleasant one for sure. They not singularly rejuvenates mind and soul of a person but also energizes other senses. There is no obscureness in the fact that mundane human life is in desperate need of pleasant aromas and food of some good flavors. No one can defy the statement that 'Therapeutic or not, fragrances are meant not to just please smelling sensations but travel us to the place of calm and serenity'.

We, Kambay Aromatics are well-acquainted with the fact that creating good aromas and flavors is not an easy thing to do, it requires accurate blending of natural scientific methods and art. To aid manufacturers of consumer products & food companies in giving pleasant fragrance and taste to their creations, our company has came into existence in the year 2004. As a trusted Manufacturer, we provided flavoring agents which are developed to provide lip-smacking taste to the Dairy Products, Drinks, Bakery items and much more. In addition to this, a global creator of soothing fragrances, we provide fragrances for various consumer items such as Cosmetic Fragrances, Massage Oil Fragrance, Industrial Cleaning Fragrance, Hair Oil Fragrance, Hand Wash Gel Fragrance, etc.

Our offerings find extensive usage in Incense Sticks & Candles, Soaps & Detergents and Cosmetics. Constantly we improve our manufacturing facilities to serve customers of today and tomorrow with offerings that are unmatched in quality. As a Exporter, we enjoy large exporting network spread over 13 countries such as Malaysia, Dubai, South East Asia, Middle East and Africa.

Our Vision

With the vision to create products which are excellent in quality and meet challenges of future with confidence, our company is moving ahead in industry. Exploration of new ideas help us to project ourselves distinct from other companies. We treat our customers with due respect and works hard to suffice their exact requirements.

Our Mission

With the support of intellectual leader, our mentor, Mr. Dilip Kanani, our company aims to provide top-most quality products like Cosmetic Fragrances and complete customer care support to clients.

We strive to suffice ever changing needs of customers with our quality-assured offerings which are developed utilizing ground-breaking technologies.

Providing value in exchange of affordable price.

Our Expertise & Why Us?

Research & Development- Our company has invested a large amount of funds in developing research and development department that is manned by a group of expert researchers which conduct deep market researches and employ creative techniques to innovate manufacturing process. In several wings of the enterprise and business processes such as production, quality analysis, all team associates work in collaboration to attain the unmatched levels of fragrance and flavoring solutions.
Technology- Latest and technologically updated production space assist us in developing finest and most authentic flavoring agents and fragrances. Spacious manufacturing place assist us in sufficing bulk requirements easily in less time.
Infrastructure- We know infrastructural space is vital to every business unit. Our company has established capacious infrastructural unit that helps in smooth running of diverse business activities.
Quality Standards- Quality is at any cost never compromised by our company. By keeping strong focus over our core competencies such as deep customer insight, creative expertise and research and development, we develop our offerings which leaves no chance of them being low in quality.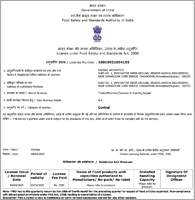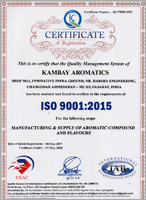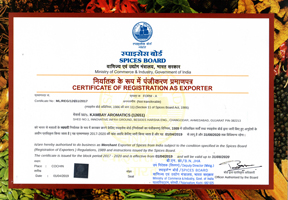 Read More